March 18, 2020
Dear Clients,
As the coronavirus (COVID-19) situation continues to evolve, Accel Professional Corporation has been paying close attention to the current status of the public health situation in Calgary. Our top priority is to maintain the health and safety of both you, the clients, and our team and community, and minimize the spread of the virus. As such, we have followed advice from the
Alberta Health Services (AHS), increasing our office's sanitization measures and postponing non-essential firm events.
As of now, we are fortunately able to continue accepting scheduled appointments. We would like to emphasize that if you would like to meet with us in person, please schedule an appointment in advance. Listed below are some measures and alternatives available to you.
Client portal set-up: Accel is using CCH iFirm, which is a reputable cloud-based database client portal. If you would like to register, we will send you an email invitation. After receiving the email, please follow the instructions in the pdf found at http://34.208.44.125/client-area.
Records drop-off: Please scan the documents and send them to us through email: info@34.208.44.125. If you would like to drop off the physical documents, please put your documents in a bag and leave it at our office door with a notice to us by calling 403-265-7818.
Sign-off: An e-signature request will be sent through Hellosign.com (dropbox company). For clients with access to the iFirm portal, we can post the documents in your dropbox for you to print and sign at home.
Meeting: You could schedule a phone call appointment by calling 403-265-7818. If it involves multiple parties, we will initiate a conference call via Zoom.
Payments: E-transfers can be made to payment@34.208.44.125. Cheques can be mailed to 808 Centre Street NE, Calgary, Alberta T2E 8K1.
We kindly ask that our clients follow provincial health service advice to ensure their own safety, as well as the safety of other clients, our team, and the community. Please reach out to us if you have any questions or concerns regarding these matters. We hope everyone stays safe and healthy.
Yours truly,
Ll Hua, CPA and Caroline Pan, CPA
Partners
Accel Professional Corporation, Chartered Professional Accountants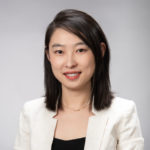 Caroline Pan, B.Sc, CPA is the assurance partner of Accel Professional Corporation.